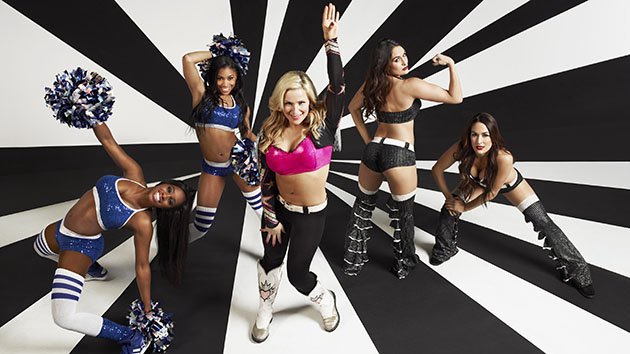 OK, so here's why - I pretty much watch everything got to do with Daniel Bryan. Old matches, new matches, interviews, Twitter, and yes, even this reality TV show that aired last night. I also kind of wanted to see some of his stuff with Brie Bella, mostly because I'm a hypocrite who rips into people who watch this kind of crap and then proceed to watch a little bit of this crap.
And it's not as if I watch all reality TV programs. In fact, I don't watch any. But, when one comes along about wrestling you just kind of have to check it out... well, for me anyway. So in that sense, it's a little bit of both. Daniel Bryan and everything wrestling.
People are probably wondering if it's true to life and successfully shows the struggles of being a WWE Diva, but it doesn't really. In the end, it's even faker than the WWE, even though they're passing it off as being 100% real.
Honestly, there's not an awful lot to say about the first episode. It's Monday evening and I was bored (like, really bored) so I decided to check it out. Does it warrant some kind review from me? Probably not, but it's still Monday evening and I'm still really bored. So, here's my bullet point analysis of it.
First off, they're all bitches. Are you supposed to like any of these women? Even Natalya comes across as a bit of a bitch. And the supposedly 'down to earth' Bella's

. And the Funkadactyls. And the two 'newbies'. In one hour of television they've already made out the Divas division out to be a political and back-stabbing mess... actually, it's probably not far off from that in real life.

Apparently 5 days before WrestleMania the Superstars and Divas have a sit down meeting with two PR people who tell them if they're going to be on the show or not. As you all know, Natalya, who had the meeting, was not booked for the show, much to her dismay. Apparently not being on TV for months isn't a clear enough indication. I kind of wish they showed a clip JTG getting the same news. It must have been soul crushing to hear that he wouldn't be on the card for the 6th year in a row.

Eva Marie was told to dye her hair Blonde. I was thinking of how hard they must have been trying to portray Diva-like dilemmas like that, but then remembered that Dolph Ziggler had the same kind of dilemma a few years ago. I guess it's a problem for everyone.

Nikki called her and Brie "veterans"!

John Cena went out to dinner with Nikki. I was pleasantly surprised to see that he didn't wear his ring attire to the restaurant like last time.

I loved the way the Bella's and Funkadactyls were such bitches to each other, yet were moments away from having to work together in a match.

I kind of wish that seeing John Cena make his entrance led them to believe that they were main eventing WrestleMania. They could have gotten another two episodes out of that alone.